It looks like ValhallaCon is on! Phillip and I got pre-supporting memberships when they first offered them about a year ago, and talked our friend Colleen into getting one, too. I joined the
valhallacon Livejournal and Yahoo Group. Then for several months there was no information and it seemed uncertain if it was really going to happen or not. But now they have dates, a venue and a writer guest of honor!

ValhallaCon is being promoted as "The successor to VikingCon, Bellingham's premiere SF/F convention." and "Where VikingCons go when they die." I was thinking about that and all of the sudden I had a picture in my head. I described it to Phillip and we worked on it together. Then he surprised me with some great lettering. So far we have a pencil draft that we can develop into a ink or colored version if they're interested, as well as make any changes they'd want. So I'm going over to post to the Yahoo Group and link back here. I guess even if they're not interested in it for any official con stuff we could always enter it in the art show (I read that it hasn't been decided if they'll have an art show, but it seems to me that it would be a shame if they didn't, since Bellingham is such a big art town.)

Preview: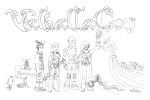 .